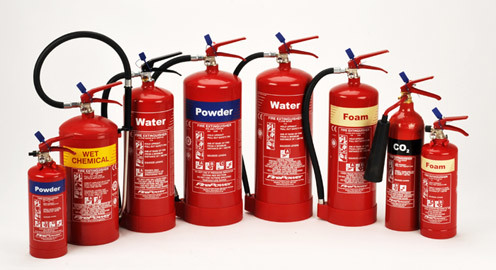 FIRE EXTINGUISHER
Product Code : 29
1000 INR
Price And Quantity
Minimum Order Quantity

:

20
Unit of Measure

:

Piece/Pieces
Product Specifications
Usage

:

INDUSTRIAL FIRE PROTECTION PURPOSE.
Application

:

INDUSTRIES, CHEMICALS PLANTS AND OTHERS.
Waterproof

:

No
Function

:

these extinguishers use compressed carbon dioxide instead of nitrogen, although nitrogen cartridges are used on low temperature (-60 rated) models. Cartridge operated extinguishers are available in dry chemical and dry powder types in the U.S. and in water, wetting agent, foam, dry chemical (classes ABC and B.C.), and dry powder (class D) types in the rest of the world.
Product Type

:

FIRE EXTINGUISHER.
Material

:

Other
Color

:

RED CYLINDER.
Warranty

:

AS PER USAGE. NO WARRANTY. WARRENTY FOR ANY MANUFACTURING DEFECT.
Size

:

2 KG, 4 KG, 5 KG.
Weight

:

2 , 4 , 5 . Kilograms (kg)
Product Description
Fire Protected Safety Equipment:
| | |
| --- | --- |
| PRODUCT NAME | FIRE EXTINGUISHER. |
| BRAND NAME | SAFEX, GLOBEX, FIRE GUARDS, FIREX. |
| PRODUCT BASE TYPE | POWDER BASE, ABC BASE, FOAM BASE, WATER BASE, CO2 BASE, WET CHEMICALS. |
| BUSINESS TYPE | MANUFACTURER, TRADERS, AND SUPPLIERS. |
| RAW MATERIALS | SAFETY PIN, HOSE CONNECTOR, SYPHON TUBE ASSEMBLY, HOSE ASSEMBLY, SPRAY NOZZLES, NOZZLE HOLDERS, OPERATING LEVERS, PRESSURE GAUGE, RELEASE VALVE MECHANISM, SCHRADER VALVE, PLASTIC BOOTS. |
| APPLICATION | There are two main types of fire extinguishers: stored-pressure and cartridge-operated. In stored pressure units, the expellant is stored in the same chamber as the firefighting agent itself. Depending on the agent used, different propellants are used. With dry chemical extinguishers, nitrogen is typically used; water and foam extinguishers typically use air. Stored pressure fire extinguishers are the most common type. Cartridge-operated extinguishers contain the expellant gas in a separate cartridge that is punctured prior to discharge, exposing the propellant to the extinguishing agent. This type is not as common, used primarily in areas such as industrial facilities, where they receive higher-than-average use. They have the advantage of simple and prompt recharge, allowing an operator to discharge the extinguisher, recharge it, and return to the fire in a reasonable amount of time. Unlike stored pressure types, these extinguishers use compressed carbon dioxide instead of nitrogen, although nitrogen cartridges are used on low temperature (-60 rated) models. Cartridge operated extinguishers are available in dry chemical and dry powder types in the U.S. and in water, wetting agent, foam, dry chemical (classes ABC and B.C.), and dry powder (class D) types in the rest of the world. |
| PLACE OF MANUFACTURING | INDIA (W.B) |
| DIFFERENT WEIGHT | 2 KG, 4 KG, 4.5 KG, 5 KG, 6 KG, 8 KG, 9 KG, 12 KG. |
| USES | FIRE PROTECTION. |
| MARKET | W.B, ODISHA, CHATTISHGARH, BIHAR, ASSAM, JHARKHAND, UTTAR PRADESH, MONIPUR, MEGHALAY, MIZORAM, NAGALAND, UTTARA KHAND, ARUNANCHAL PRADESH. |
| MINIMUM ORDERS QUANTITY | AS PER DEMAND. |
Contact Us
15A, Clive Row, 1st Floor, Kolkata, West Bengal, 700001, India
Phone :+917042401136